Uncategorized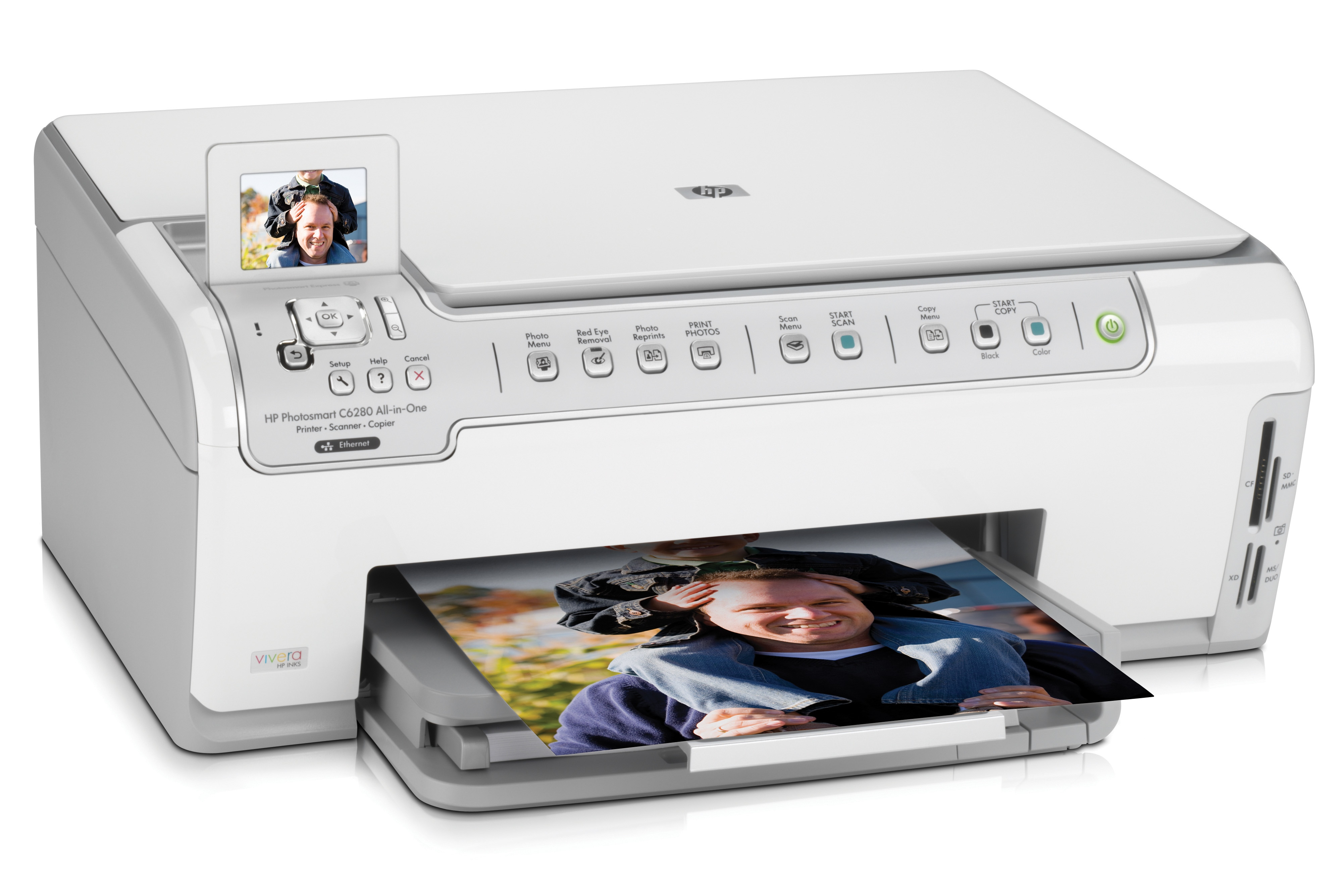 Identity Crises for the HP Photosmart C6280 Printer
The HP Photosmart C6280 is a printer with and identity crises. It is billed as a member of HP's Photosmart range but is in fact an office multifunction machine featuring items normally found in a business all-in-one like a built in duplexer and network capabilities, but is missing important photo printer features like a PictBridge port.
The appearance of the Photosmart C6280 is similar to other stand alone Photosmart printers with an A4 flatbed scanner on top, it has four memory card slots, but oddly no PictBridge USB port, so no printing direct from PictBridge cameras, videocams, and mobile phones. The control panel is standard HP fair so is well organized and easy to use. The 2.4-inch LCD is swivel mounted to optimise your viewing angle. The standard four-way options button is joined by a dedicated menu for copy and scan functions as well as a photo-dedicated menu including red eye removal and photo reprint options.
Paper handling is also standard HP system with a three layer cassette, the bottom main input tray holds 100 sheets of plain paper and above this sits the dedicated 4×6 photo paper tray with a 20 sheet capacity which automatically engages when 4×6 paper is directed. At the top sits the output tray, which flips up to allow loading of photo paper. Both input trays pull out for easy loading.
The Photosmart C6280 employs six colour printing and uses individual ink cartridges so you only have to replace the colours as they run out, having said that the capacity of the cartridges are the meanest in the HP range and only the Black is offered in large capacity XL guise. The standard HP363 black has a capacity of 6ml; the 363XL has 17ml of ink but is less than twice the price so replace the black with the XL version at the first opportunity. If you are going to be doing a lot of colour printing or photo printing you are stuck with the standard replacements and you could be buying these regularly as they only contain 3.5ml of ink each. Best option in this case is
to buy the Value Pack that contains one of each cartridge plus 150 sheets of photo paper at a saving of about 30% over buying the cartridges individually. Based on HP's estimated page yields for each cartridge, normal text prints should cost around 1p per page and a full colour print will be about 5p.
The features available in the C6280 are as you would expect from an all-in-one printer costing around £130, although as previously mentioned include the fact that it is network ready with an Ethernet port in the rear and has a built in auto-duplexer so that it can automatically make double sided prints without any effort on your part.
Photocopying can handle up to 50 copies at once and allows you to crop and preview the document before copying. When scanning, your options include scan and reprint, scan to memory card or scan to PC. The scan and reprint option is geared with photographs in mind so that instead of just copying as you would do on a copier, you can crop the image, apply colour treatments, and change brightness, size or layout of the resulting print. The crop option is however a bit limiting as it only zooms in and out in set increments.
Memory card options include sharing, saving and printing photos. With both the Print and View options, the select-all-and-print choice is not on the top level and you also have to go through a print preview set-up for each image before you can tell the printer you want to selectmore photos before printing. This whole area of the menu process is a bit long winded and could do with a revamp.
In performance terms the C6280 is no star, it isn't particularly bad atanything but it isn't particularly good either and there are better machines available for this money, Text print speeds were middle of the road and no match for Canon's Pixma MP600, colour graphics printing was on a par with the Canon but photo printing was particularly lethargic, with the Canon some five times faster.
Unfortunately the quality of the Photosmart C6280's prints and scans were also a disappointment. The black textwas a rich, dark black but let down by slight fuzziness at the edges, colour graphics also suffered from a fuzzy effect and verged towards graininess. Photo prints also suffered this effect along with some loss of detail in dark areas of print and could benefit from improved sharpness.
Overall the Photosmart C6280 does not make a compelling buy as an all-in-one printer and fails to offer feature required of a good photo printer, together with its lacklustre performance and disappointing print quality, one must come to the conclusion that the Canon Pixma MP600 would be a more rewarding purchase.